Name
Model
Manufacturer
Brochure
Price
Call for pricing
Questions?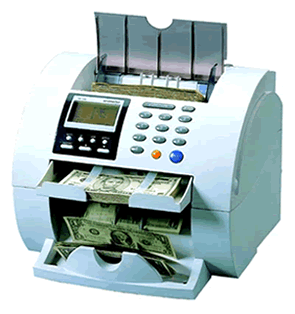 CURRENCY DISCRIMINATION COUNTER SB-1000
Your (NEW) Logical Choice When Speed and Accuracy Count Most.
The all-new Shinwoo SB-1000 features advanced high-speed denomination recognition technology.
The Shinwoo SB-1000 Currency Discrimination Counter allows operators to be more efficient and cost-effective, they spend less time counting and more time helping customers. Here's how....
No presorting is necessary. Simply choose your settings, place the bills in the hopper, and go. The SB-1000 counts the bills you want to count, and automatically diverts the others to the large 70-note-capacity pocket. Everything is performed quickly and accurately with no need to stop midway through the process.
FEATURES:
Mixed Mode: Identifies and counts mixed denomination notes at 1000 notes/Min
Single Mode: Counts and separate one denomination of note from others
Face Mode: Face mode will process all faced (front side)notes into the main pocket and unfaced (back side) to the reject pocket.
Orientation: Orientation Mode will process same direction of front side of a note to the main pocket and other direction of front side of a note to the reject pocket.
Easy Upgrade: Connection with PC for new currency and improved software
Print: Print mode will print a report of value and piece count of all denomination of notes with RS232 Serial Dot Matrix or Thermal Printer.
| | |
| --- | --- |
| Currency | US Dollars |
| Count Speed | Low 600 n/min - High 1200 n/min |
| Present Batch | 100,50,25,20,10 (from 1~999) |
| Display | Large Graphic LCD |
| Hopper Capacity | 300 bills |
| Stacker Capacity | 200 bills |
| Pocket Capacity | 70 bills |
| Suspicious Note Detection | Magnetic sensor / Ultra Violet sensor |
| Dimensions | W 12.70" x D 12.40" x H 11.50" (excluding hopper guide) |
| Weight | 29.7 lb. |
| Power Consumption | 100~240VAC, 50/60Hz |