Name
Model
Manufacturer
Brochure
Price
Call for pricing
Questions?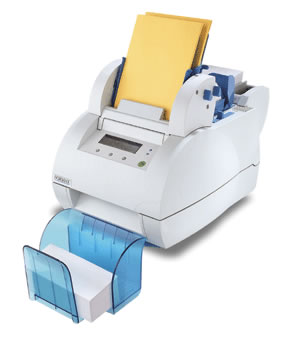 The office Folder/Inserter
The FD 6100 folder/inserter makes it possible for any business to automate their mailing. The affordability of this folder/inserter eliminates the necessity to send out tens of thousands of mail pieces to justify the cost of automation. With the FD 6100 any size company can enjoy the benefits of automated folding and inserting.
Quiet operation and a compact, desktop design fits any office environment. A large, clearly marked control panel with step by step instructions easily guides operators through setup and operation. Up to nine jobs can be programmed so that recurring and frequent jobs can be processed with the push of a button.
Don't waste any more valuable time and money manually folding and inserting. Automate your mailings with the FD 6100 and maximized your company's efficiency.
Three Sheet Feeders (Two fully automatic sheet feeders and One automatic insert/BRE feeder)
Fully automatic adjustments
User friendly display for easy set - up
Seal and non-seal capabilities
Two counters - One resettable for addition and batch counting and one non-resettable
Double document detection
Folds and inserts up 14" lenght documents
Clamshell Design for easy access
Fold type: Letter and Double Parallel
Automatic
One sheet folded and inserted
One sheet folded, return envelope nested and inserted
Two sheets collated, folded and inserted
Two sheets collated, folded, return envelope nested and inserted
Folding only without inserting, Simi-Automatic
Up to five sheets (20# stock each), stapled or unstapled, folded and inserted
The FD 6100 can process a variety of documents up to 14" in including checks, invoices, newsletters and business reply envelopes. Two sheet feeders and one insert/BRE feeder allow for a number of jobs to be automatically processed including; 1 sheet, 1 sheet and a BRE, 2 sheets or 2 sheets and a BRE. The FD 6100 multiple feed stations allows you to make your single sheet mailings " work for you" by using the second feeder to insert a direct marketing piece.
The FD 6100 folds and inserts at speeds up to 23 pieces per minute and can hold up to 100 sheets/inserts in each feeder. The semi-automatic mode folds up to five stapled or unstapled sheets of 20# paper in one motion.
the document feeder swap mode maximizes output by filling both sheet feeders with the same documents. When the first feeder empties the second automatically starts feeding without interruption. This feature allows for a total sheet feeder capacity of up to 200 sheets.
The FD 6100 is designed for anyone to use. The large, clearly marked control panel gives step-by-step prompts and guidance. To make operation even easier, up to nine frequent and recurring jobs can be programmed for access with the touch of a button. A user friendly drop-in feed system and clamshell design for easy access to the paper path adds to the simplicity of operation.
Automating saves time, money and reduce the amount of handling, making the document more secure. To ensure the integrity of mailings the FD 6100 has a double document detector that will automatically detect double and other potential misfeeds.
Fix Speed
1,380 pieces/hr (23pieces per minute)
Hopper Capacity
Up to 100 sheets in each sheet feeder
Up to 100 inserts/BRE's in the insert feeder
Up to 100 outgoing envelopes
Duty Cycle
Up to 3,000 per month
Paper Size
5.875" - 8.875" W x 3.125" - 14" L
Insert/BRE Size
5.875" - 8.875" W x 3.125" - 4.125 H
Outgoing Envelope Size
8.75" - 9.5" W x 3.5" - 4.875" H
Dimensions
24.2" L x 16.5" W x 20.7" H
Weight
88 Lbs.
Voltage
120 Volts (50/60 HZ)
Safety Certifications
UL