Name
Model
Manufacturer
Brochure
Price
Call for pricing
Questions?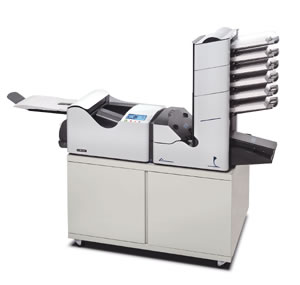 Fully Automatic 2, 4 or 6 Station Folder/Inserter
Available in five models, the 6400 Series can be adapted for almost any folding and inserting application. Two, four and six station models are available to meet your particular folding and inserting needs. The FD 6400-Standard 2 Station has two standard feeders with all the advanced features offered by the 6400 series. A modular design allows for the addition of two or four feed stations to meet growing business demands.
Two four-station models are available for increased productivity and flexibility.
The FD 6400-standard-4 offers four standard feeders and the FD 6400-special-4 comes with three standard feeders and one special feeder for processing glossy and heavier paper stock. Both four- station models are modular and can be converted into future six station units.
The FD 6400-standard-6 further increases productivity with six standard feeders. The ultimate in flexibility is available with the FD 6400-special-6 boasting five standard feeders and one special feeder to process even the most demanding jobs quickly and efficiently.
The 6400 Series inserters deliver unmatched flexibility and power needed for high-end productivity in a sleek compact design that is ideal for the office environment. The optional production feeder holds up to 325 BRE's and up to 1,200 sheets of paper, this feature increases hopper capacity and reduces loading time.
FD 6400-Standard-2 Two sheet Feeder
FD 6400 -Custom-2 Two custom Feeder
FD 6400-Standard-4 Four sheet Feeder
FD 6400-Special-4 Three standard Feeder & one Special Feeder
FD 6400-Custom-4 Four custom Feeder
FD 6400-Standard-6 Six sheet Feeder
FD 6400-Special-6 Five standard & One Special Feeder
FD 6400-Custom-6 Six Custom Feeder
Two, four or six fully automatic stations
Auto Set - one touch setup
Diverter - sensor redirect double documents and incomplete sets without interruption
Fully automatic adjustments
Nine pre-set fold applications
Seal and non-seal capabilities
Clamshell design for easy access
User friendly display for easy set-up
Two counters- one resettable for addition and batch counting and one non-resettable
Five adjustable insert fingers
Two Double document detectors
Folds up to eight sheets of paper
Fold types: C, V, Z and Double Parallel
Fold and/or insert sheets, business reply envelopes and cards automatically in almost any combination
Multi feeding - Allows for a set number of pieces to be pulled from one feeder, then collated and inserted automatically
Folding only without inserting
Daily post mode for inserting stapled sets
Production Feeder
OMR - Optical Mark Recognition
Conveyor
Side exit tray
One Standard & one Special feeder
Two Standard feeders
Short feed tray
FD 400 Jogger
The 6400 Series is available with two, four or six feeders to meet your growing needs. A variety of documents up to 14", including checks, invoices, newsletters and reply envelopes can be inserted in almost any combination. The 6400 Series has an optional special feeder that allows for the insertion of glossy documents as well. An optional production feeder, conveyor or side exit tray can be added to maximize your operator productivity. The production feeder can hold up to 325 BRE's or up to 1200 sheets of 20# paper stock.
The 6400 Series processes at a rate of up to 3,500 pieces per hour and can handle up to 325 sheets in each feeder. Feeder can be refilled on the fly allowing for continuous operation.
The cascade mode maximizes production by filling multiple feeders with the same documents, When one feeder empties another one can automatically starts feeding, this allows for a total stacking capacity of 1,950 sheets. The enhanced folding system folds up to twice the amount of documents compared to the industry standard.
The 6400 series has double document detectors insure insertion integrity. Every document can be checked twice for doubles - once at the feeder and again at the point of insertion. The optional OMR capability allows for the insertion of multiple page documents automatically. OMR determines which documents go together into each envelope, eliminating the tedious task of manually collating and inserting.
The AutoSet feature automatically detects and sets paper length, fold type, envelope size, fold length and double document detection. Simply load the documents in to the feed hoppers and go. The 6400 series also includes nine pre-set folds for reoccurring or frequently processed applications. The drop-in feed system and easy access paper paths increase efficiency and maximizes output.
| | |
| --- | --- |
| Dimensions | 16.5" W x 63" L x 36" H (FD 646 Models) |
| Paper Size | Length 3 1/2" - 14" Width 5 1/8" - 9" |
| Weight | 226 Lbs. |
| Speed | 3,500 pieces/hr |
| Feed Hoppers | Up to 325 Sheets |
| Envelope Size | Length 3 1/2" - 6.3/8" Width 6 1/4" - 9 3/4" |
| Envelope Hopper | Up to 250 envelopes |
| Duty Cycle | 60,000 per month |
| Voltage | 100 - 120 Volts (50/60 HZ) |
| Safety Certifications | UL |