Name
Model
Manufacturer
Brochure
Price
Call for pricing
Questions?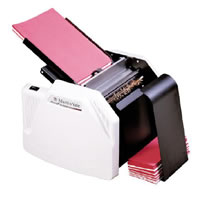 Whether you have a small family business, 20 regional offices, or a mammoth printing operation TIME IS MONEY!
With Model 1501X paper handling equipment, you can cut your company's workload immediately, save money by saving time AND produce more for less. Used in thousands of churches, schools and business offices.
The 1501X is easy to set up and operate and turns a stack of programs, newsletters or other single sheets into perfectly folded pieces at a feed speed of 9,200 sheets per hour.
Desktop publishing
In-house direct mail
Accounting
Corporate distribution
Bulletins, specials, newsletters
| | |
| --- | --- |
| Max. Sheet Size | 9 1/2" x 14" |
| Min. Sheet Size | 3 1/8" x 4" |
| Speed | Fixed at 9,200 11" sheets per hour |
| Paperweight Range | 18-90# bond (or equivalent) |
| Dimensions | 24" x 15" x 16" |
| Electrical | 115V, 60Hz (220V, 50Hz available) |
| Shipping Weight | 43 lbs |
We also carry: